Welcome to my ATV homepage!

This web site was built to inform others about turbo systems and high performance parts for quads!
My 400EX!

I have a 2001 Honda 400Ex, KMS EX1000 turbo system (Garrett turbo/ stainless stell tubing), K&N air filter, custom 3M flames/cross-bones graphic design (huge sticker kit), and a krazy tip exhaust (spiral preforated Porche exhaust core). This bike has a complete fuel injection system with a 40mm throttle body, intercooler and a purging system so you can run it on Methonal. It has 65HP+++, depending on how much BOOST you give it ( 8lbs-20lbs). You can pull wheelies in fith gear.............
KMS TURBO


CHECK OUT THE PHOTO PAGE FOR MORE DETAILED PICTURES. Keep in mind these are old pictures, so there isn't any of the fuel injection system, or intercooler yet. I will take some pictures this weekend and have them up on this site before X-Mas.........I will get some pictures of the DS-650 too...........
They have a complete system for the DS-650 too. Turbo-fuel injection-intercooler, purging system, etc.......Turbo's work off of initial HP, so the DS-650 is alot faster then my 400ex. Though I still like the 400ex for now!
bray_pike@yahoo.com
ATV at Garrett Show last Feb.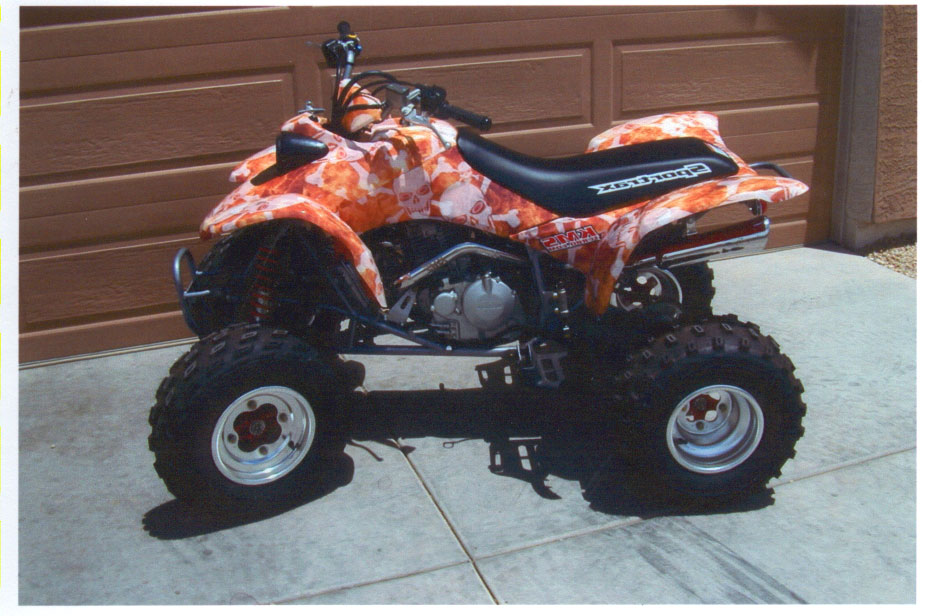 Recent picture of bike, after new graphics were added.

Quick shout-out to blue media for designing the graphics for this bike. THANKS!

www.kmsturbo.com